Sujitha – Telling Story With Mehendi
 In spite of being an engineer by qualification, Sujitha found her love and passion in making creative mehendi designs and launched Madras Mehendi Studio.  Sujitha shared her story and journey of becoming a mehendi artist with us here in this session. Take a look at what she said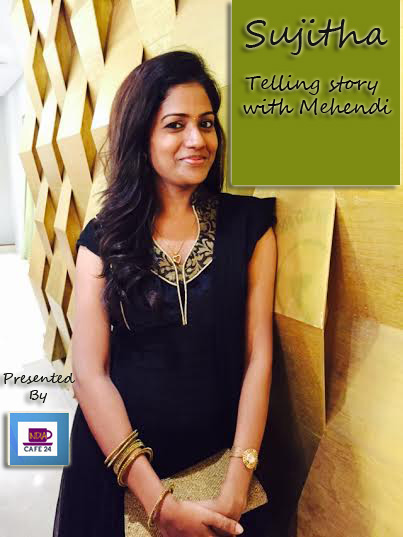 1) Welcome to the platform of Indiacafe24.com. We are happy to have such a talented artist and entrepreneur with us. Sujitha will request you to introduce yourself to our readers.
Hi everyone. It is my pleasure to share about myself and MMS with you guys. I am an Engineering graduate who found interest in creative field and chose not to enter the herd of software like many others. I was very much fond of making intricate designs be it on fabric or on walls. I found mehndi designing as a suitable profession as it was demanding and trending from those days.
2) What the secret behind launching Madras Mehendi Studio?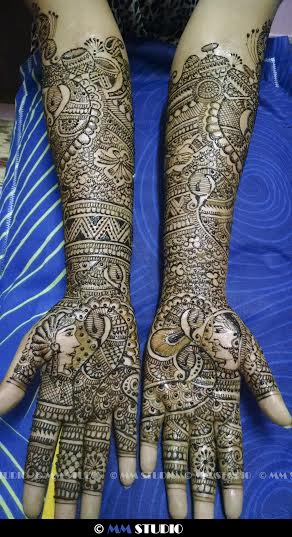 There is no secret as such. As i said mehndi designing was starting to get kind of demanding and trending during my search for a suitable creative profession. It is the first stepping stone towards my dream of becoming a design artist basically.
3) How and when you first realized that you have a true artistic sense in you?
From childhood days i was more fond of sketching and painting than anything else. I used to scribble simple designs on my note books and walls. It was so much fun at school to participate in arts and crafts competitions. My parents and friends used to appreciate me for my works. So i always had a thought that i have a creative hand and that i have to make use of it.
4) Please give a brief about the types of mehendi pattern you follow in your designing?
I generally follow classic wedding design patterns.
5) Who inspired you to take your creativity in the form of professional turning into an entrepreneur?'
Her name is Ashiqa – my friend who taught me mehndi designing initially.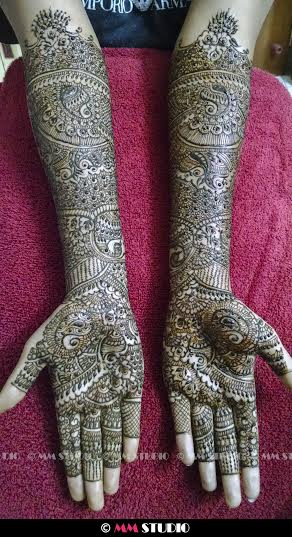 6)  What types of mehendi you are using  in your creative art form? Is it something special in it or the commonly found Mehendi powder in the market?
I don't use mehndi powders bought at local markets. I order specially from a manufacturer who make them from natural henna with no chemical content. Other than that there is nothing special in the mehndi powder i use.
7) Do you design Mehendi based on any specific pattern or it's just your creative imagination?
It depends on the client's requirement. Most of them wish to choose from the designs from my album and a few do discuss their preferred designs which i always welcome.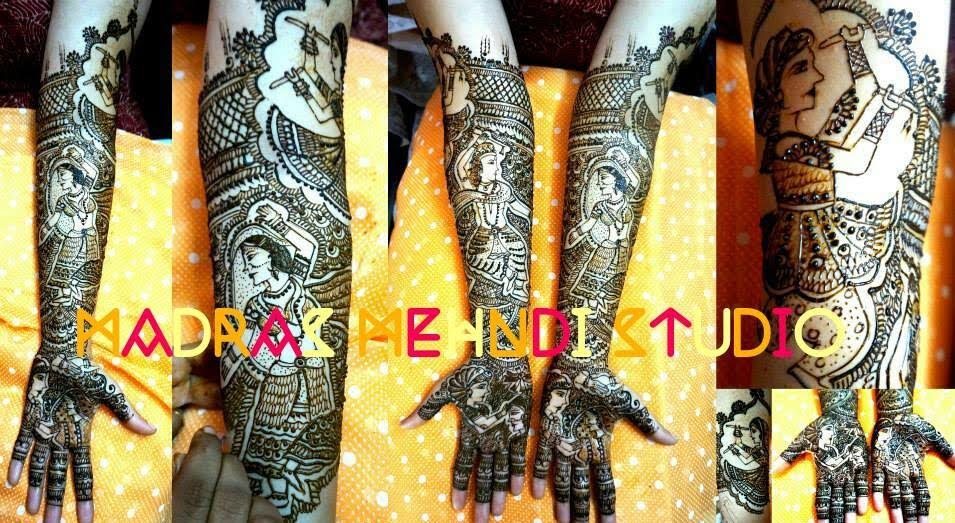 8) In case anyone wants customized design then is that possible for you to design?
Yes. If a client wishes to give her ideas during my design process, we improvise on it. Some customers ask for a specific theme to be followed for designing which we have done in many places.
9) Any special training you received in this art form?
Yes, I went for a training initially to get an idea about mehndi designing.
10) Why you named your project as Madras Mehendi Studio and why not some thing on your name?
I wished to name my studio that would be associate with Chennai, being one of most favorite places, at the same time that would make it sound peppy and also easy to remember in its short form. MMS is what flashed in my mind immediately.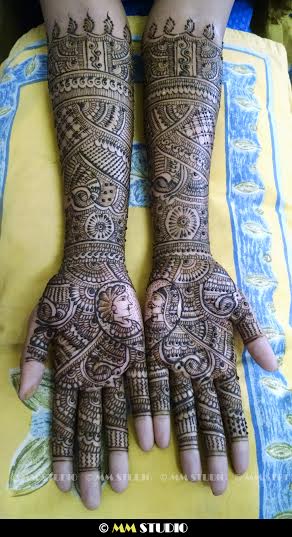 11) Who are your targeted customer?
Majorly Weddings, baby shower and betrothal ceremonies.
12) How you are reaching your customers and what sort of response you are getting for your creativity?
Mainly through facebook and personal references. My clients have always referred me to others which i think has been the best way to reach new customers and that itself shows the kind of response and feedback MMS has got for its creativity and customer satisfaction.
13) What's  the manpower in your studio who are assisting you in handling the client requests?
I have got 4 co-artists who are assisting me during peak time.
14) What are your future plans for Madras Mehendi Studio?
I wish to establish a studio encompassing the entire range of services required for bridal grooming with the best of class in the city.
15) What are your other passions in life? 
Bridal makeup is another passion on which i am working right now. Other than that sketching, wall painting are my favorite hobbies.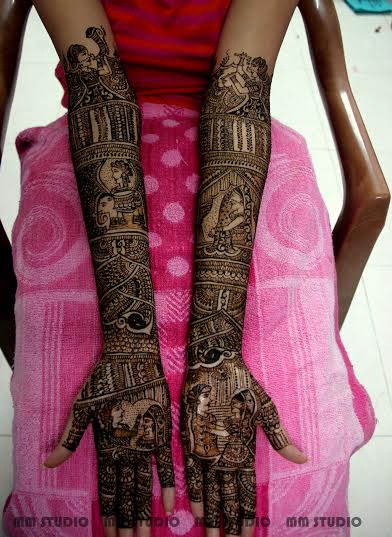 16) How to contact you for booking your dates?
My GSM number is available in my facebook page. Prospective customers can get in touch with me through telephone, send me text messages in Facebook or send me e-mails as well.
17) Do you have any team with you for assisting you in your work?
As i said, I have got 4 co-artists who are assisting me during peak time.
18) How to manage to handle Bulk orders as you artwork is very demanding and we are sure the client base is increasing with every passing day?
The first thing to keep in mind is not about how many order you book. It is important to understand yourself how many orders you are capable of handling during peak season. There is no point in committing to too many orders and end up disappointing one or two of your customers. Every single customer is important in this profession. Also, you must have a trustworthy co-artist who are capable of doing as good or even better than the expectation of your clients. I always try to keep balance between my professional and personal commitments. Its better being assertive initially than being a sorry figure eventually.
19) Share some WOW moments in your journey?
I have had small dreams of doing mehndi designing for celebrities. I have had opportunities to do for some of them as well like for example i did for some serial actress,video jockeys and radio jockeys. And by the way when these celebrities and some of the top artists in this field of bridal grooming and wedding organizers recognize your talent and appreciate the works that you have done it feels like WOW. Whenever i come across such encouragements, it motivates me to do even better to show my creative skills.
20) What are your views about Indian women entrepreneur and how you want to encourage such ladies who want to come up and establish them as entrepreneurs?
The most important thing i would say is to stop hesitating and take the first step towards your passion. The first step is the most difficult step of all and for all. The rest will be easy if you have the fire to achieve what you love to do. Being woman doesn't restrict you in doing anything. This hesitation has to be first eradicated from your mind. Believe in your ability. Only then your decision making becomes easier.
21) Define Sujitha- the Mehendi designer?
An aspiring entrepreneur in bridal grooming, a crackerjack of every aspect of it.