Poonam – Creating Mehendi Designs In Style
 Creativity add patience, are two key factors which are must for a successful mehendi artist. Demand for quality Mehendi artists are high in India. Poonam is one such gem of this art form whose work speaks about her creative brain. She joined us to share her story with you all in this session. Take a look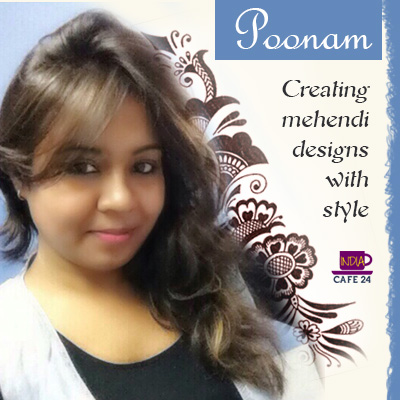 Welcome to the platform of indiacafe24.com. We are happy to have such a talented artist and entrepreneur with us. Poonam will request you to introduce yourself to our readers.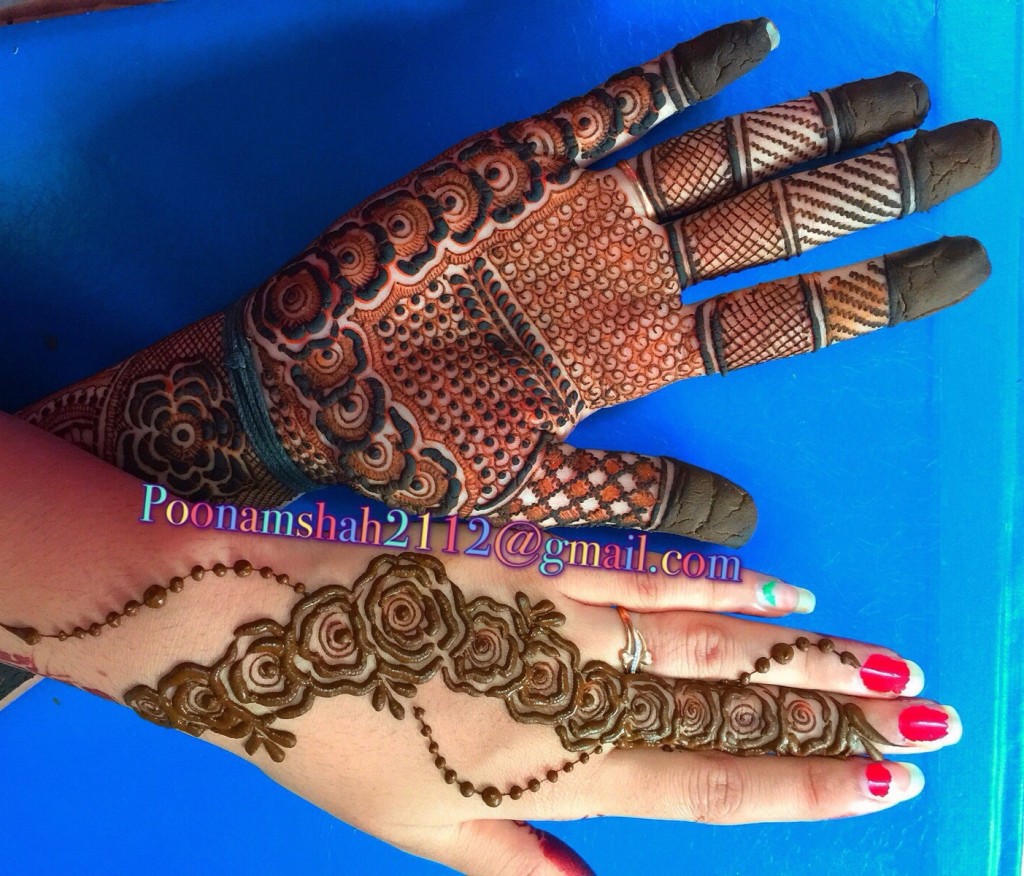 Thank you very much to Samata and the team at Indiacafe24.com for this lovely opportunity to be featured as an artist on your website.
I was born and brought up in Mumbai. I'm a Professional Mehndi Artist, specialized in Bridal Mehendi. I also teach mehendi; my student vary in skill level from beginners to intermediate and the courses vary from basic to more specific styles of mehendi like Arabic, Indo-Arabic and Bridal.
What is the secret behind launching Poonam's Creations?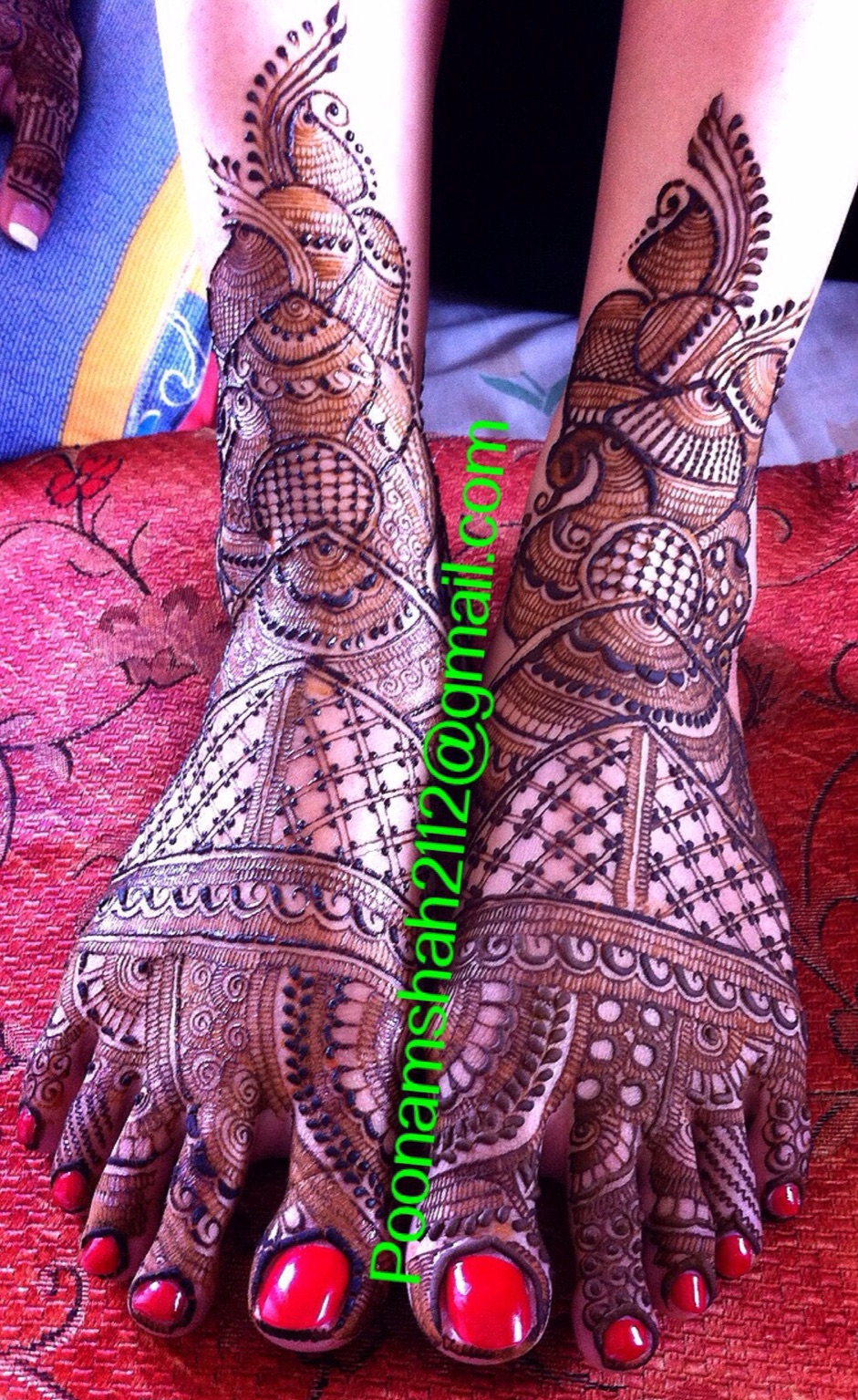 As an independent thinker and an artist, I didn't want to be tied up at a desk job and working a fixed schedule of 8/9 hours. Working under someone would mean that I cannot freely express myself with my art, I wanted my art to be recognized with my signature behind it.
I launched Poonam's Creation so that I can be independent and also get the opportunity to freely display my skills to the World in form of Mehendi. I also started teaching for the same reason so that others like me get the opportunity to learn and express their art.
How and when you first realized that you have a true artistic sense in you?
During school days I used my note books to create random designs and figures and this would pretty much be a daily routine for me. Soon my books pages filled with more of the drawings than my actual notes. This is how I came to realize that I have a passion for art as it came naturally to me.
Please give a brief about the types ofmehendi pattern you follow in your designing?
I have designs for mehendi based on occasions: engagement, wedding, baby shower, karwa chauth etc.
There are many different designs of mehendi that I use, most common designs are: Traditional Mehendi, Arabic Mehendi, Indo-Western/ Indo-Arabic Mehendi, Floral Mehendi and Bridal Mehendi.
As mentioned previously I specialize in Bridal Mehendi, this is because I offer several different figures options to be placed on the mehendi. Basic figures like dhol shehnai, kalash, gathbandhan, and lord ganesha. Specialized figures for bride and groom include: bride groom playing dandiya, groom applying sindoor, baarat, bride in doli, groom on elephant and many more.
Who inspired you to take your creativity in the form of profession turning into an entrepreneur?'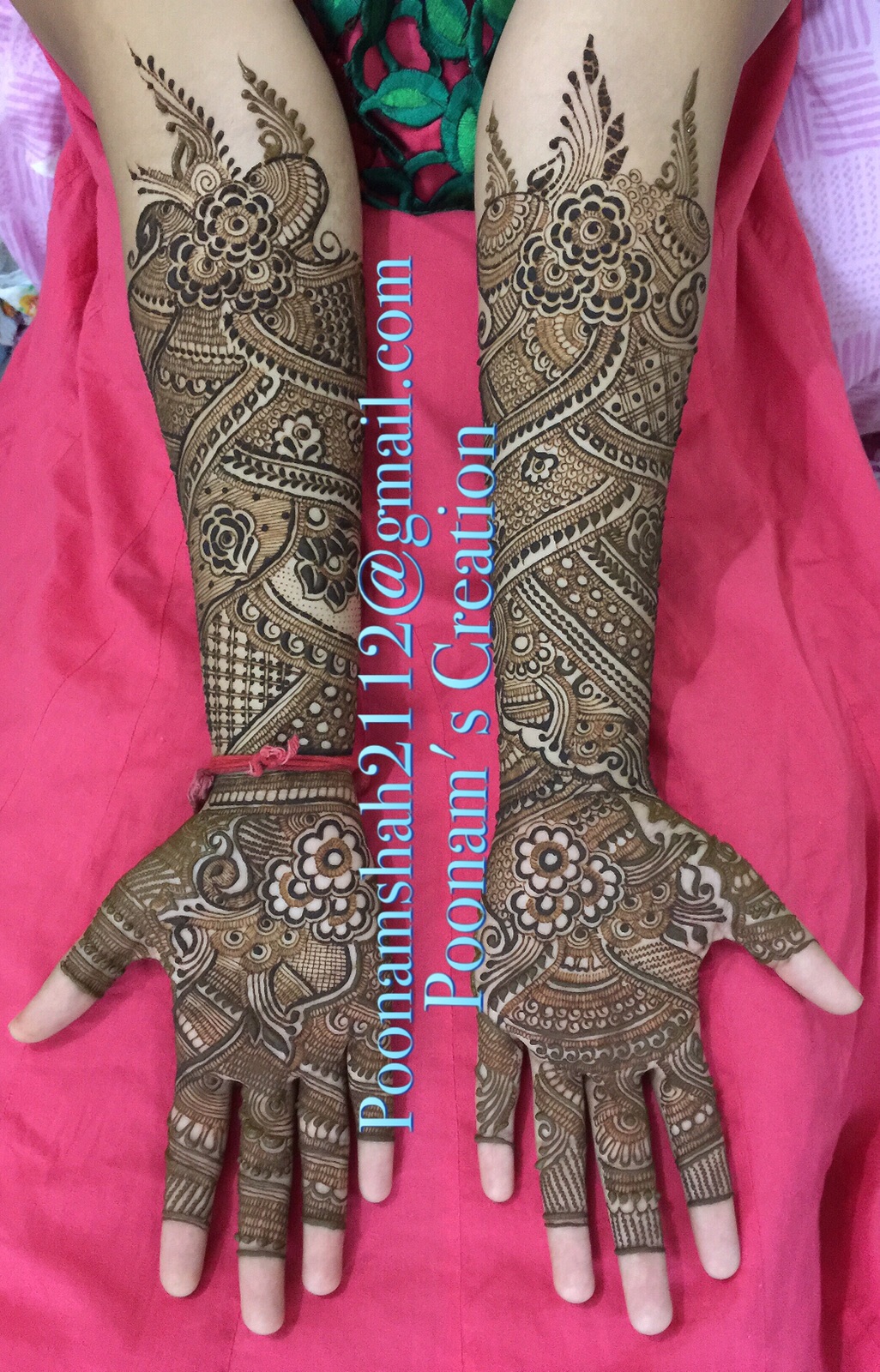 My family is my inspiration especially my mom and my sister who have encourage me and supported me to take this step to being an entrepreneur.
What types of mehendi you are using in your creative art form? Is it something special in it or the commonly found Mehendi powder in the market?
I use henna brand mehendi, which is commonly found in the market, it is of great quality and gives a very nice color.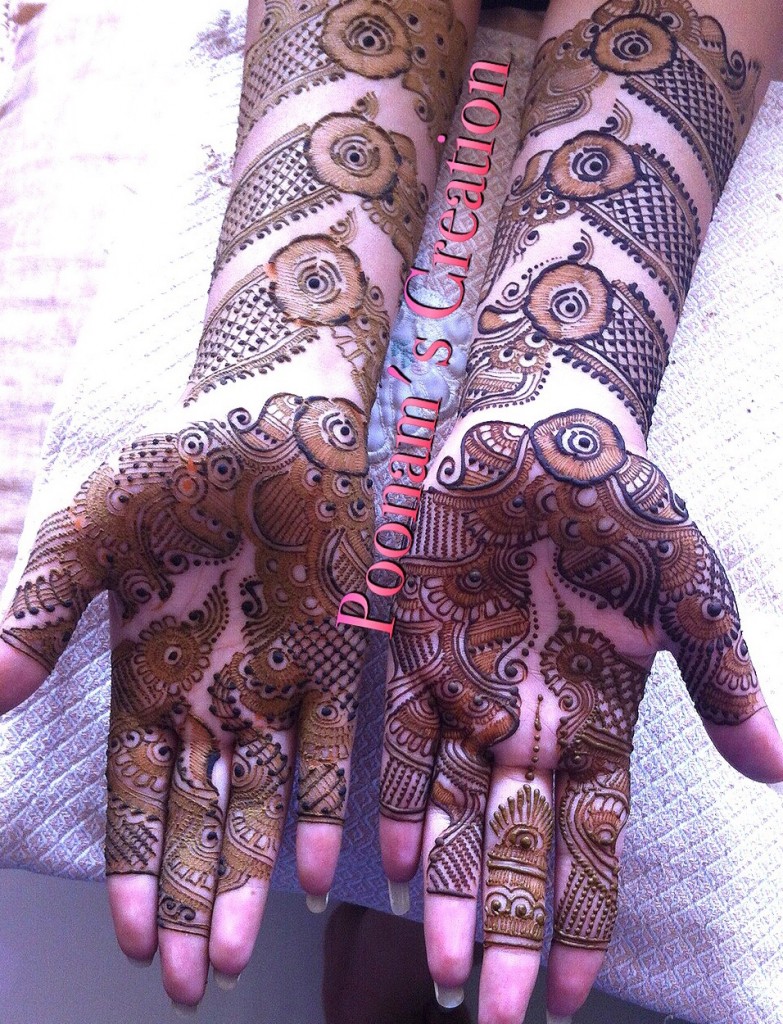 Do you design Mehendi based on any specific pattern or it's just your creative imagination?
I cannot say that I use any one style independently, my mehendi are based on both specific patterns and creative imagination. I use the idea from specific pattern and add my creative twist to the design.
In case anyone wants customized design then is that possible for you to design?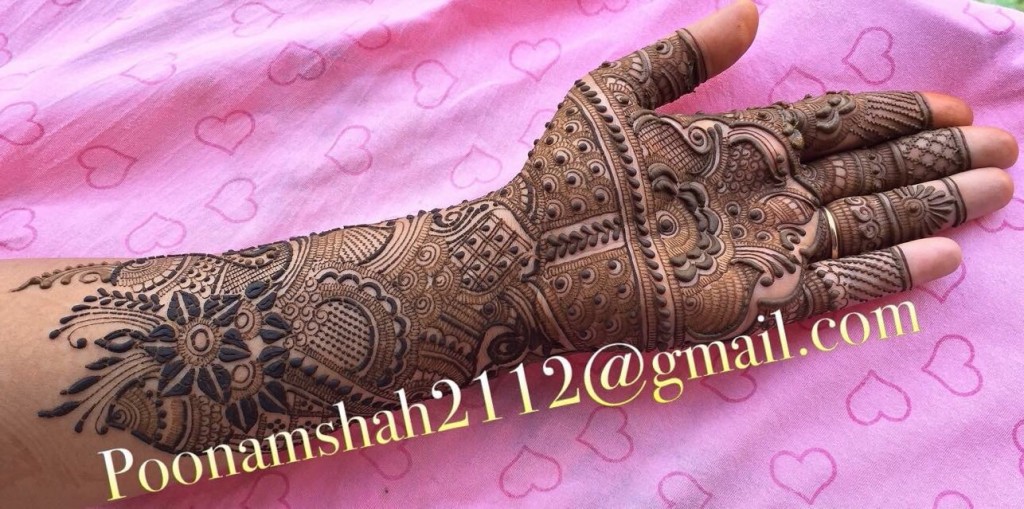 The advantage of being independent is the ability to meet the customers' needs, from small to big I can customize any mehndi. As an artist I love these form of challenges, this helps me show off my skills and also develop them at the same time.
Any special training you received in this art form?
I have not taken any special training to develop my skills. I once signed up to take classes myself but it was a rip off, that pushed me to work harder and learn new skill sets on my own, Initially I looked at books and magazines for any form of art to help me develop my skills.
Who are your targeted customer?
I would say that my target customers are brides as I get to showcase my specialty skill set. Other reasons why brides are my target customers is because they tend to request customized mehendi which require great art work and patience.
Although brides are my ideal customers, I would love to apply mehendi to any customer for any occasion.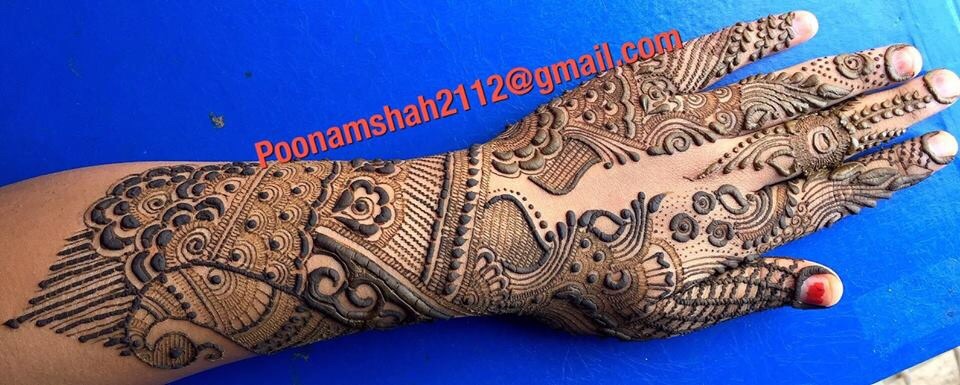 How you are reaching your customers and what sort of response you are getting for your creativity?
As they say the best advertising is through word of mouth, I get majority of my customers through references. I recently created a facebook page for 'Poonam Mehendi Artist' through which I have received lot of inquiries and also many new customers.
What's the manpower in your team who are assisting you in handling the client requests?
Depending on the number of artists required I assemble my team accordingly. I'm usually accompanied by my students.
What are your future plans for Poonam's Creations?
I want the name 'Poonam's Creations' to be a well-recognized name so that whenever there is an occasion, this name should be mentioned for Mehendi needs. Additionally I want to grow my teaching so that more students would be able to learn this intricate art and keep the tradition of mehendi alive.
What are your other passions in life?
I love to travel and explore new places. I also enjoy Shopping and photography.
How to contact you for booking your dates?
The best way to contact me is through my email poonamshah2112@gmail.com or Facebook Page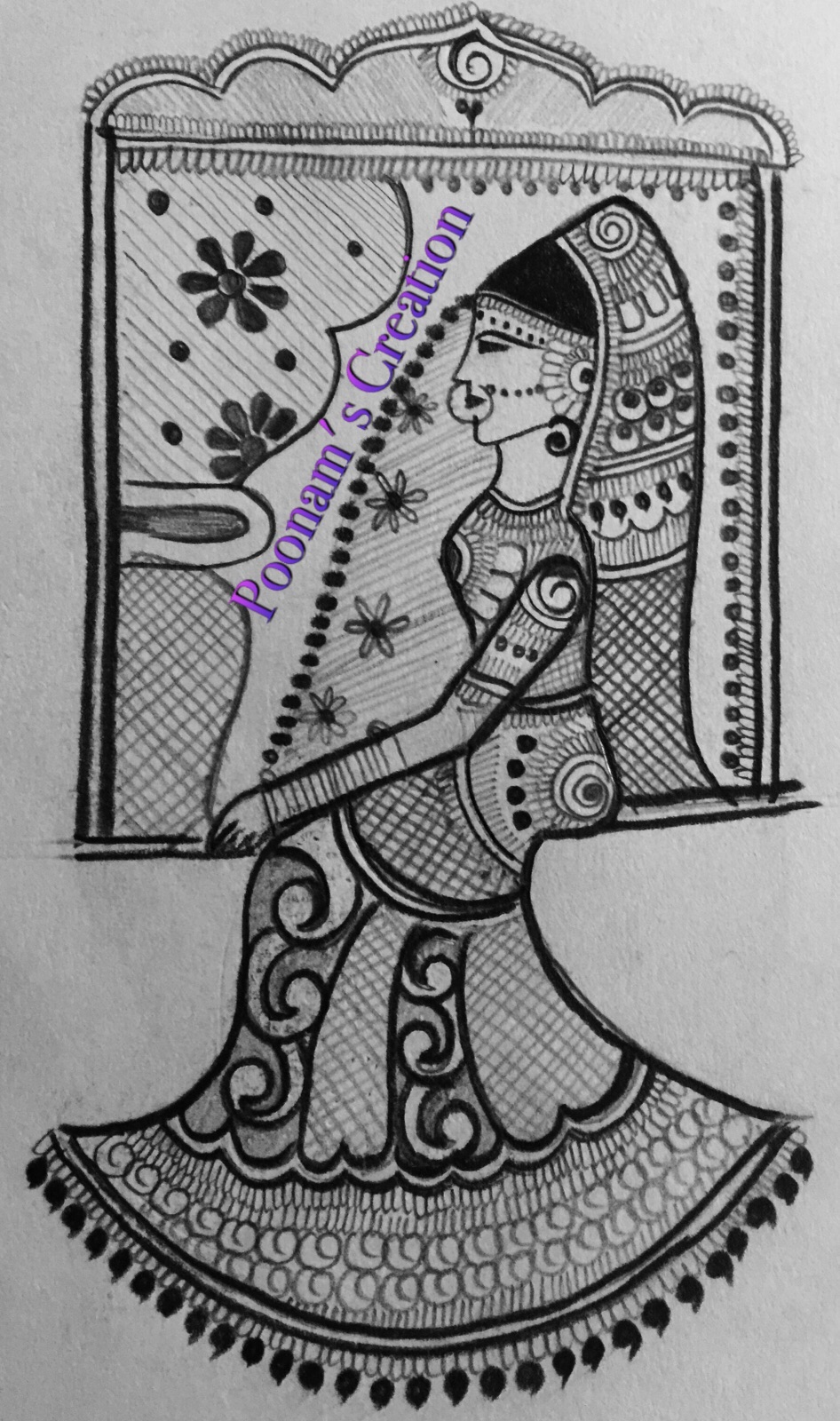 Do you have any team with you for assisting you in your work?
I am in this profession since 9 years and teaching for the past 8 years. Some of the prior students have now reached professional level, they assist me with my work.
How to manage to handle Bulk orders as you artwork is very demanding and we are sure the client base is increasing with every passing day?
I have both the prior student and my current students assist me for bulk mehendi orders.
Share some WOW moments in your journey?
I would love to share couple of the best WOW moment…
One day out of nowhere I got a call for applying Mehendi on Sonam Kapoors Hand for movie 'Dolly ki dolli', it was an extremely wonderful experience. I got chance to meet her in person, see the behind the scene happening and also other movie stars.
Another of my WOW moments is that during any mehendi competition I always managed to get the 1st or the 2nd prize.
What are your views about Indian women entrepreneur and how you want to encourage such ladies who want to come up and establish them as entrepreneurs?
Today the tables have turned, women are taking charge, chasing their passion and becoming entrepreneurs. Everyone can become entrepreneurs and follow their dreams, all you need to do is take the first step. It doesn't matter what you do if you do it with your heart you will succeed and enjoy while doing it.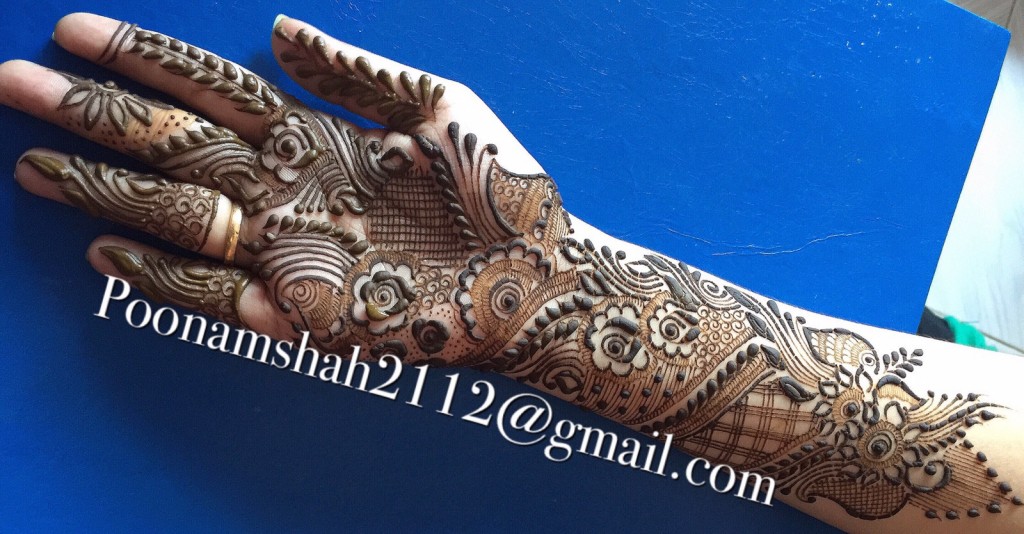 Define Poonam- the Mehendi designer?
A charismatic and talented artist.