Mahalaya – Awakening of Goddess Durga
Mahalaya – Awakening of Goddess Durga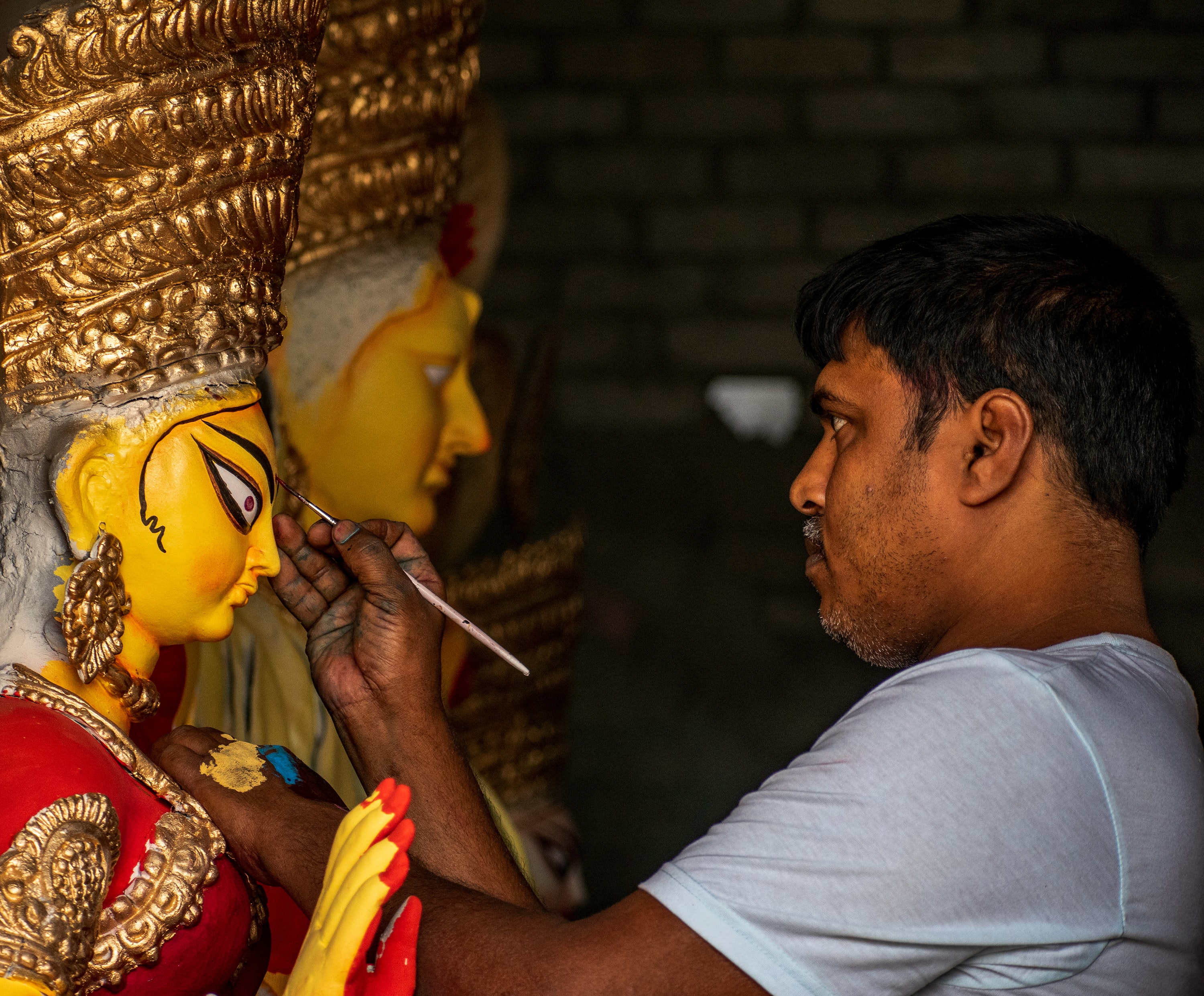 Photo by Boudhayan Bardhan on Unsplash
Mahalaya is an important occasion for the devotees of Goddess Durga, especially the Bengali community. It marks the end of Shraadh and the beginning of the ten upcoming auspicious days for worshipping various forms of Goddess Durga. Moreover, several events take place on this day, signifying its mythological importance. It is an invitation to Ma Durga to arise, awake and arrive on earth to kill the evils with her Supreme Goodness. The entire Ma Durga family gets this invitation for arrival on earth. The family comprised of Ma Durga, her two daughters Lakshmi & Saraswati, her two sons Ganesha and Kartika, along with her daughter in law Kala Bau (the banana tree bride of Ganesha). She visits her maika ( paternal place) with her children after getting the invitation on this day.
Mahalaya – The mythology behind this auspicious day
As per Hindu mythology, it is believed that Mahishasura, an evil demon was invincible, which means that no human or Devta could defeat or kill him. He attacked the Devtas and won against them. In prayer, the Gods started worshipping Adi Shakti, who blessed them with spiritual light. After this, Brahma, Vishnu, and Mahesh created Goddess Durga with their powers and equipped her with special weapons to defeat Mahishasura. 
Goddess Durga fought a violent battle with Mahishasura for nine days and overcame him on the tenth day. The devotees believe that each year, Goddess Durga comes from Kailas to earth with her family and stays for ten days to endow her blessings. 
Celebration of Mahalaya
Mahalaya is celebrated in the month of Ashvin and is the first day of the Durga Puja held in this month. In 2021, Mahalaya will be observed on 6th October. 
Celebration of Mahalaya among Bengali Community
The dawn of Mahalaya, witnesses the echo of Mahishasura Mardini, which is the holy chanting of mantras recitation, and divine songs about the reverence to Sri Sri Chandi, known as Chandipath. People switch on their radio sets as a ritual each year in the earliest hours of Mahalaya to listen to fixed audio recorded by established singers and musicians many years ago.
Following this, numerous shows depicting the act of Mahishasura Mardini are broadcasted on many television channels. But still date it was difficult for any artist to replace the essence of Birendra Krishna Bhadra, and his magical voice behind Mahisasur-Mardini narration.
On this day, the sculptures draw the eyes of Goddess Durga on the idols. It marks the awakening of the inner power as she is associated with Shakti. They also perform a special act of worship during this event. 
Apart from Bengalis, all Indians await this day as it marks the beginning of Navratri, celebrated throughout the country. This day signifies the foundation of a ten-day celebration filled with glory, power, and enjoyment.