Inside Out – Movie Review
Inside Out – An Outstandingly Original And Heartfelt Story From Pixar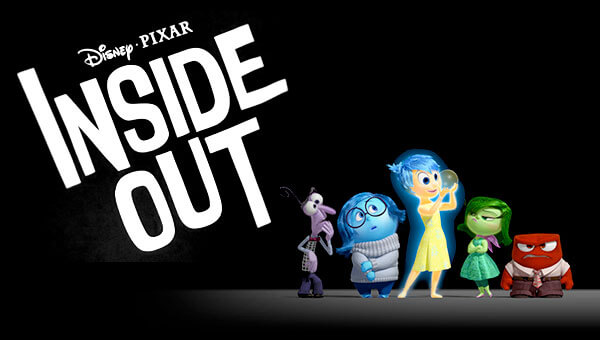 Movie: Inside Out
Cast: Amy Poehler,  Lewis Black, Bill Hader, Mindy Kaling and Phyllis Smith
Director: Pete Docter and Ronaldo Del Carmen
Genre: Drama, Comedy, Animation, Family
Rank:

Inside Out is an animated punch to the heart flick from Pixar that follows its usual pathway that leads from Wackadoodle to waterworks. The film directed by Pete Docter and Ronaldo Del Carmen, has a smart premise, an emotional resonance and visually enchanting animations making it one of the finest works from Pixar. The movie, whose concept is based on pure genius, was released globally on 26th June 2015.
Inside Out tries to explore the complex labyrinth of a very young girl Riley's mind as she is forced to move to San Fransico, where her father is taking up a new job. Leaving behind her mid western lifestyle, Riley follows the guidance her five main emotions of Joy ( voice over by Amy Poehler), Fear (voice over by Bill Hader), Anger (voice over by Lewis Black), Disgust (voice over by Mindy Kaling) and Sadness (voice over by Phyllis Smith), which reside in her mind. As Riley tries to settle in her new life in San Fransico, a conflict ensues between her various emotions as each of them has to say something about the manner in which Riley should navigate through the new city, new house and new school. The movie provides and insight to not only children but also grownups about how to best handle their biggest emotions.
Even though Inside Out reveals the emotional struggle of the young girl uprooted from her life as she has known it, it does so from the perspective of a parent. It sends out an important message which is about the necessity to feel and express ones emotions irrespective of whether they are happy or sad. The film-has some extremely emotional moments which are sure to hit parents the hardest with the various relatable scenarios that would make them both smile and winch.
Overall the movie is a must watch for both parents and children and IndiaCafe24 gives it a rating of 4 stars.
Reviewed by Meetu