Talvar- Movie Review
A Hard Hitting Movie Based On The Famous Noida Double Murder Case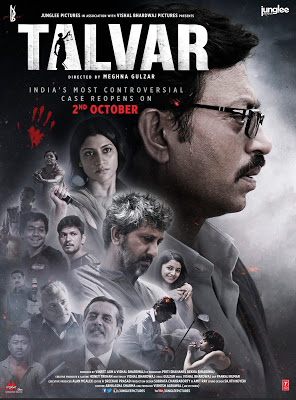 Movie: Talvar
Cast:  Irfaan Khan, Neeraj Kabi, Konkana Sen Sharma, Sohum Shah.
Director: Meghna Gulzar
Genre: Crime Drama
Rank: 

Meghna Gulzar has brought to life the mystery of the Noida double murder case in which a teenage girl was found murdered along with the domestic help of the family. Talvar stars actors Irfaan Khan, Neeraj Kabi, Konkana Sen Sharma, Sohum Shah in the main roles and has been produced by Vishal Bhardwaj and Vineet Jain. This hard hitting crime thriller was released in theatres on 2nd Oct 2015.
The story gets direct to the point with Ramesh and Nutan Tandon played by Neeraj Kabi and Konkana Sen Sharma waking up one fine day to find the body of their teenage daughter Shruti (Sohum Shah) in a pool of blood. The clumsy and incompetent investigation of the crime by the team of local police team led by Inspector Dhaniram played and their questioning of Tandon's assistant Kanhaiya, makes them declare Ramesh and Nutan guilty of honor killing. However, the case is transferred to CDI and Officer Ashwin Kumar soon finds major indescrepencies in the investigation. He also recovers the decomposed body of Tandon's domestic help Khempal from another part of their building, complicating matters even further. How the investigation proceeds and whether or not the Tandon's are truly guilty is what forms the rest of the story.
Meghna Gulzar needs to be appreciated for bringing out the various aspects of the Aarushi Talwar murder case. Kudos also goes to the entire star cast for doing full justice to their respective roles and especially Irfaan Khan, who has portrayed one of the most complex characters of his career with great finesse. In addition to exploring the role of the various agencies, individual egos and political influences in this complex murder case, the film also raises serious questions on the role society in general.
The movie is must watch film and IndiaCafe24 gives Talvar a rating of 3.5 stars.
Reviewed By M. Nadir