Manjhi – The Mountain Man- Movie Review
Nawazuddin Siddiqui Saves The Day For This Biographical Melodrama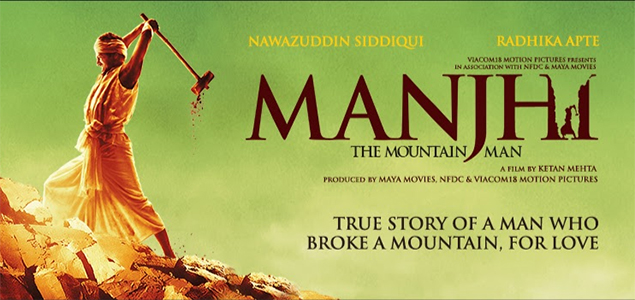 Movie: Manjhi – The Mountain Man
Cast: Nawazuddin Siddiqui, Tigmanshu Dhulia and Radhika Apte
Director: Ketan Mehta
Genre: Biopic
Rank:

Ketan Mehta is a well known director who is renowned for creating meaningful pictures and Manjhi – The Mountain Man is supposed to be another such movie. The movie which stars Nawazuddin Siddiqui, Radhika Apte and Tigmanshu Dhulia in the lead roles was released in theatres on 21st Aug 2015.
The movie tells real life story of Dashrath Manjhi who single handedly made the road through the mountains of Gehlaur in Bihar, using just a hammer and a chisel. The feat was made possible by the deep love that Manjhi had for his wife, who met an accident and died due to lack of proper medical aid reaching her with the shortest route to the nearest doctor passing through the treacherous hill trail. Nawazuddin Siddiqui has played the part of the poor labor Dashrath Manjhi while the character of his wife Faguniya has been portrayed by Radhika Apte. The movie tells the tale of the struggle that Manjhi had to go through with not only the bureaucrats blocking his way but his friends and family also trying to deviate him from his vow of breaking the mountain to create an accessible path for the villagers.
Ketan Mehta has tried to present a brilliant real life story with a little too much melodrama, which is sadly the biggest drawback of the movie. However, the brilliant performance of Nawazuddin Siddiqui makes every moment of this biopic worth watching, even with its various flaws. Although the movie touches various core issues, it stays focused on the main storyline, that of the commitment of a man to crumble a mountain for giving his village easy access to basic facilities.
Manjhi – The Mountain Man is a real life love story that proves inspirational in more ways than one and IndiaCafe24 gives the movie a rating of 4 stars.
Reviewed by M. Nadir