Brothers- Movie Review
Karan Malhotra's Latest Flick Is Full of Blood Curdling Action but Lacks Emotional Content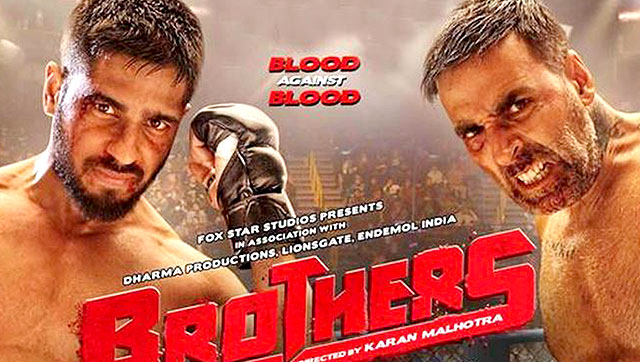 Movie: Brothers

Cast: Akshay Kumar,  Jacqueline Fernandez, Shefali Shah, Sidharth Malhotra,Jackie Shroff

Director: Karan Malhotra
 Genre: Action Drama
Rank:

Karan Malhotra seems to take pleasure in remaking action movies that have been quite successful. That is why after Agneepath, he choose to remake the iconic Hollywood movie Warriors. Starring Akshay Kumar, Sidharth Malhotra, Jacqueline Fernandez, Jackie Shroff, Shefali Shah, the movie is a high-octane action drama set in the backdrop of MMA(Mixed Martial Art). Brothers was released in theaters on 14th Aug 2015.
The story is about David  played by Akshay Kumar who has a troubled relationship his half brother Monty role played by Siddarth Malhotra. Their father, Gary played by Jackie Shroff is released from jail after serving his term for accidentally killing his wife Maria played by Shefali Shah during a heated argument when the later comes to know about Monty being Gary's love child. Presently, David lives a quiet life with his wife Jaani  played by Jacqueline Fernandez and their little daughter who suffers from a fatal kidney problem. In a bid to arrange the finance to save his daughter's life, David decides to take part in the R To F Competition, being organized by a Mr. Bringanza for Indian fighters, little knowing that he will have to face off Monty, who also has his own reasons to win. Whether the brothers make peace or seek the path of revenge is what the story is all about
Sadly for Karan Malhotra, Brothers seems to have a little too much of violence with only a poor script ad slow pace to back it up. As for the performances, the male leads have all done justice to their roles and the females leads are not lacking in any respect. The music failed to create much impact except perhaps the item song number by Kareena Kapoor.
Overall, the movie is a good watch for hard core action lovers, even though it does lack an emotional touch, and IndiaCafe24 gives Brothers a rating of 3 stars.
Reviewed by Meetu