Ashish Chaudhary Emerges As India's Khatron Ke Khilladi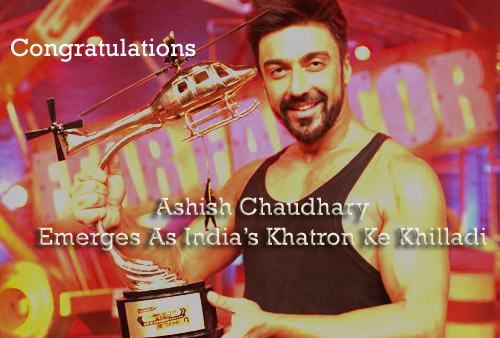 Fear has a new address- Khatron Ke Khilladi. Fear Factor- Khatron Ke khilladi is a stunt or action based reality show in India. The concept of the show is similar to that of America's Fear Factor. This reality show was first launched as Fear Factor India on Sony entertainment Television in 2006. Then the show was hosted by Akshay Kumar, the popular stunt actor of India. Rohit Shetty has been hosting it since 2014.
The show went on producing and airing its episodes season after season until 2011. Then a break of two years was seen. The show was back on air in 2014 and the 6th season of the show was telecasted in 2015. The season 6 went on air on 7th February 2015 and had its last episode was telecasted on 11th April 2015. On 12th April 2015 we got to see the finale of season 6 of the action based show from 21:00 hours onwards on the popular national channel Colors Viacom 18. The producer of the show is the renowned production house Endemol who has quite a number of reality shows like BiggBoss up its sleeves. The program had a show time from 21:00-22:00 hours every Saturday-Sunday until 11th April.
The show has a format according to which only Indian celebrities can take part in the show, performing stunts, and actions. The stunt director of this popular show is Francois Grobbelaar and all the stunts are performed under his supervision.
This year a total of 14 contestants/celebrities took part in the show. The entire shooting was captured in South Africa. 1 special guest, Salman Yusuff Khan also took part in the show but he left the show on 22nd March 2015. Nadish Sandhu was a wild card entry and got eliminated on 11th April 2015.
On Sunday, we saw a neck to neck competition among Iqbal Khan, Meiyang Chang, and Ashish Chaudhary. Ashish Chaudhary became the winner of season 6 followed by Meiyang Chang as the runner up. Chaudhary along with the title won a cash reward of twenty-five lacs and a Scorpio from Mahindra