Aditya Chopra and Rani Mukherji blessed with a baby girl, Adira
Aditya Chopra and Rani Mukherji blessed with a baby girl, Adira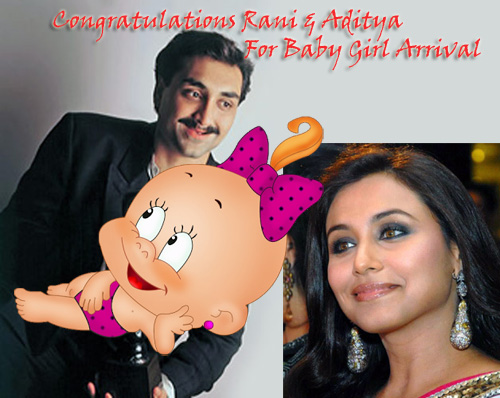 This morning Bollywood woke up with showers of their blessings to the bundle of joy who arrived this morning to the Bollywood star Rani Mukherji and famous film maker Aditya Chopra. Yes, our pretty actress gave birth to a baby girl on 9th of December 2015. Both the mother and child are fine, healthy and Rani could not control her happiness as she sent the message through social media from the Breach Candy Hospital, Mumbai where the baby girl was born. The couple named their girl Adira which is a cute combination of Aditya and Rani's name. After Rani sent the message of her happiness on social media about the arrival of the much awaited happiness, the entire film industry deluged with their tweets congratulating the celebrity couple.
In the message which Rani released on media, she said, "I would like to thank all my well wishers and fans. Today life has given us God's greatest gift with Adira. We thank fans our friends and well wishers for their unconditional support and blessings. With joy we begin this new chapter in our lives."
Later the Social media was all about the little princess as everyone was giving their blessings to the couple and congratulating them. Uday Chopra, broher of Aditya Chopra sent an elated tweet, "It's a GIRL!" and the tinsel town celebrities like Karan Johar, Rishi Kapoor, Ritesh Deshmukh and many other celebrities from Bollywood tweeted about the baby girl and sent their happy wishes to the Chopra family.