Let You be My Puppet Once By Preetika Mehra- Book Review
A Book Review Of Let You be My Puppet Once By Preetika Mehra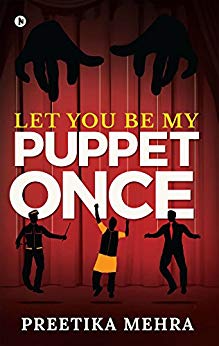 Publisher: Notion Press, Inc.

Publication Year: 2018

ISBN-10: 1642499986

ISBN-13: 978-1642499988

Pages: 326

Rating: 4.0 on 5
My interest in politics is minimal at the best, which is perhaps why political thrillers have not held much appeal for me. However, the fact that Let You Be my Puppet Once was penned by a female rather than a male, intrigued me enough to agree reviewing it. Even though the cover page chosen by the author Preetika Mehra does not reflect the political theme of the book, it does try to emulate the title.
Vedica, Josh, Siama and Karan are 4 young professionals working in MNC's, who become the unintentional victims of political gambling. The death of Saima's sister combined with a molestation attempt, lead to the four losing faith in the system. They then decide to expose the nexus between the rich and the powerful and the politicians and the mafia. They come up with an ingenious plan which creates much trouble and confusion for even for the investigating officers, as they are unable to pin point the true intentions of the four friends. As a thrilling tale of brain, tricks and blood unfolds the Chief is left wondering about how it happened and where it will end?
Let You Be My Puppet Once is a gripping tale that keeps up the surprise element till the very end. The subject has been well-researched and the language used is simple yet crisp. The book picks up pace gradually and the characters have been introduced and developed in a beautiful manner. Full credit goes to Preetika for choosing to not only write on a subject that has traditionally been considered men's forte, but turning into a successful entertainer. l really enjoyed every twist and turn in this political drama, which I feel proud to state has become one of my favorite reads in the recent times. I wish Preetika all the very best for its success.