He Fixed The Match She Fixed Him By Shikha Kumar – A Review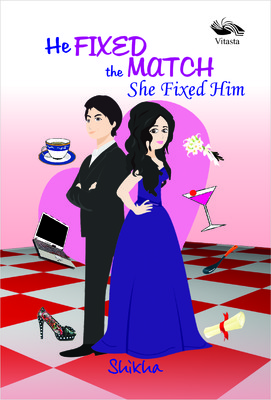 Publisher: Vitasta Publishing
Publication Year: 2014
ASIN: B00P5ZSF6G
Pages: 239
Rating: 4 on 5
The cover of this book was the first thing that attracted me as it promised a mesmerizing journey of love, ego clashes and much more. I was also intrigued by the blurb about the storyline which clearly indicated that I was going to encounter romantic tale that started off with the desire for revenge. As I started reading He Fixed The Match, She Fixed Him I was simply bowled over by the story telling ability of debut novelist Shikha Kumar. Her attempt of presenting an ordinary concept in a different manner is truly commendable.
The two main protagonists of the book, Shreya and Kunal are both being pressurized by their families to get married, unaware of the fact that they both have a bitter past. Kunal's eagerness to settle the score with Shreya makes him accept her marriage proposal. On the other hand Shreya is unaware of the true identity of Kunal till her marriage day. Having tied the knot, Kunal reveals his true intentions to Shreya and re-defines the seven vows of marriage which Shreya is required to abide by. What follows is an interesting set of events wherein Shreya is determined not to surrender and manages her new home and office efficiently. And love creeps in silently from the backdoor. Her mother-in-law and Kunal's cousin Vineet help Shreya in her struggle andcreate an interesting twist in the plot.
I thoroughly enjoyed every moment of reading He Fixed The Match, She Fixed Her. The diversity of emotions ranging from revenge, agony and remorse to attraction, tantalization and romance has been beautifully captured by the author through a simple yet engaging narrative. The smooth flow of the story is further enhanced by the easy to understand English. In addition, the author displays the ability to hold secrets and reveal them at an appropriate time, which made sure that I was not able to put the book down before I had finished reading it.
To read the session with Shikha Kumar Click Here
The book was received as part of Reviewers Programme on The Tales Pensieve.