DareDreamers – A Start-up Of Superheroes – Book Review
A Book Review Of DareDreamers – A Start-up Of Superheroes By Kartik Sharma And Ravi Nirmal Sharma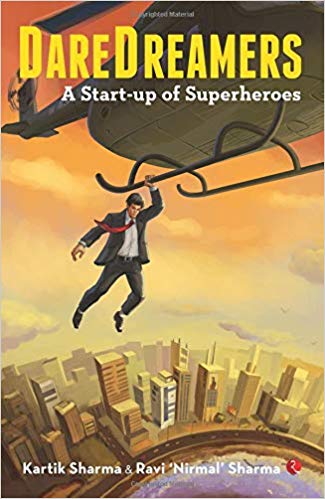 Publisher: Rupa Publications

Publication Year: 2018

ISBN-10: 9353040876

ISBN-13: 978-9353040871

Pages: 296

Rating: 3.5 on 5
Upon first learning about the title DareDreamers – A Start-up of Superheroes, I considered it to be another motivational or self-help books.  However, I was pleasantly surprised, when the book turned out to be nothing of the sort. In fact, it is a fictional tale penned by author duo of Kartik and Ravi Nirmal Sharma. The cover page has been designed in accordance with the unique title of the book and tends to intrigue the readers. For me it was a wonderful reading experience in the recent times.
Rasiq's success as an investment banker turns him arrogant and soon it causes him to lose everything he loves, including his girlfriend. As a part of his efforts to reboot his life, Rasiq ends up establishing a start-up of superheroes comprising of five uniquely talented individuals. These include, a crazy inventor named Nick, a man with inhuman strength named Halka, a champion shooter named Arjun, a bollywood stunt double named Natasha, and a medical Sherlock Holmes named Dr. Vyom. These six people work together to rescue people from various dangers. However, their skyrocketing success makes the DareDreamers the biggest enemy of G-Force, a competitive organization.
Daredreamers is a complete thriller and keeps the readers interested from the very first page to the last. The authors have maintained a smooth pace through the entire storyline and have successfully retained its element of suspense. The language is easy and the character building has been done in a beautiful manner. Most importantly, Kartik and Ravi have combined two different concepts to come up with a plot that is truly unique and intriguing. The novel does suffer from some small drawbacks, but the overall manner in which it has been rendered, make up for them. I wish Kartik and Ravi all the very best for the success of this book.