Book Review of BOUNCE BACK: Setback to Comeback – Being Positive Is The Only Way To Bounce Back From All Negativity In Life
Book Review of BOUNCE BACK: Setback to Comeback – Being Positive Is The Only Way To Bounce Back From All Negativity In Life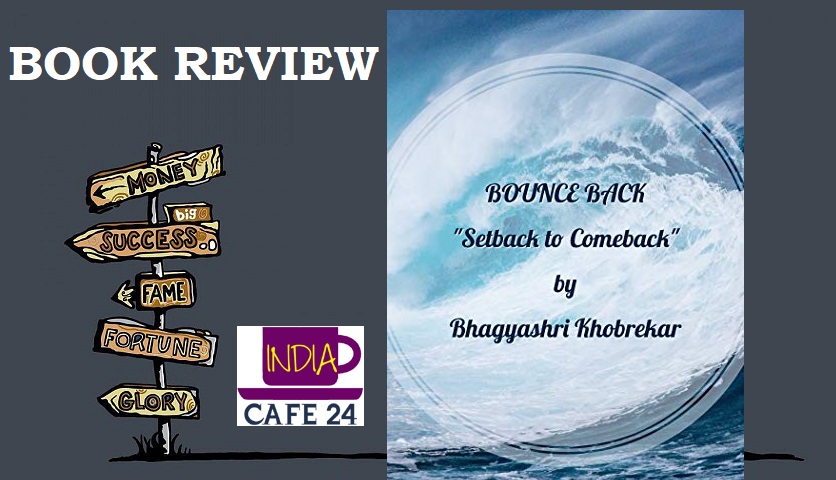 Format: Kindle

ASIN : B08R698HS3

Year of Publication: 2020

Pages: 33

Rating: 5 stars
The present scenario is very complicated, and that is all because of the Corona Pandemic. In such a scenario, reading a self-help book like BOUNCE BACK: Setback to Comeback by Bhagyashri Khobrekar is no less than welcoming fresh air in life. There are very less people who can motivate you to bounce back in life, after certain setbacks faced by us. I can confidently say that Author Bhagyashri is one among them. It's just 33 pages book, but the knowledge or the advice you get from her book is priceless, at least I as a reader feel so.
 In total, there are 8 small chapters in the book which speak about various aspects of life that can demotivate us and how we can bounce back from those setbacks.
The Whirl of Negative Emotions- She speaks about the Devil within us, which finds pleasure in whirling around us in the shape of Vicious Circles turning us highly vulnerable towards them. The moment when the pressure turns too much, our angelic side revolt and help to bounce us back to life.

Bounce Back in Career: The early career choice is decided not by the child. It's the influence of family, relatives, and popular career options that decide what an individual should choose as a career. In maximum cases, mistakes are made, which we get to realize at the later part of life when failure bogs us back. But it's better late than never. The moment we realize the failure and accept it with an open mind, doors open up to show what we are best in. It may take time to start fresh but yes, you will get the gift of satisfaction at the end.

Bounce Back with Health: Health issues are part and parcel of life. Few may be genetic, few due to growing age, and unfortunately major reason is the carelessness we show towards our body. Stress & anxiety turned out to be a part and parcel of life affecting the body and mind, in short, health badly. Love yourself and take care of the health, and trust things will automatically fall in place.

Bounce Back Love: Love… The word speaks about emotion not restricted to a man and a woman but can be for any relationship we have in life. Heartbreaks happen but accept it as something good happened to you. Remember what happens, does happen for good. It indicates you deserve the best, and you don't need to settle for less.

Bounce Back with Relations: I must say, it's similar to that of Love. Few relations may work for you, and few may not. If it's not working for you, halt and analyze why that happened. If you can find the positive factors which started the relation, then give it a chance to revive. If it still won't work… leave and move forward for the better.

Bounce back with Success: Being an optimist in life is something, that can ensure you taste success even when one is bogged down.

Bounce Back with Travel: This chapter appeared to be the most interesting one among the 8 chapters of this book. In the hard times of life, when we take out some time to explore new unseen places, we do experience a sense of freshness. It boosts confidence and also opens up new avenues in life to think positively.

Bounce Back from Fear: The moment you sense the existence of fear in life, just shift the concentration towards something good, which happened in life in similar situations. It will motivate you to bounce back, saying no to fear.
 Each chapter is beautifully penned down and motivates one to lead a life in a better way. The simple language used to describe all chapters is something brilliant to expect from a medical person like Author Bhagyashri. What I liked the most about the book is the quotes at the beginning of every chapter. Well, it gives a clear indication that there is a poet within the author. Great job, and I wish Bhagyashri immense success for this book and her life ahead.
@Bhagyashri- Thanks for the Review copy