Book Extract of "A Bowl of Soul Curry" By Romila Chitturi
Book Extract of "A Bowl of Soul Curry" By Romila Chitturi
Authors are one of the most creative persons I, met so far. One of the talented authors and poets I met in 2021 was Romila. She is not just a poet or author, but also a stupendous student. She has so many degrees and a PhD in her bucket. Unicorn is her brainchild, a digital and paperback magazine that is winning the hearts of people in the literary and art field. You can call her a multitalented personality in reality. She launched her 16th Book, on 30th October 2021, and there are many more to come from her.
So here I am presenting the extract of her new book, "A Bowl of Soul Curry" and other information related to it. I am sure reading it you will be keen to buy it. No worries, I shared that too at the end…
Keep reading…..
You can know her more visiting this link : Romila Interview
Extract of the book: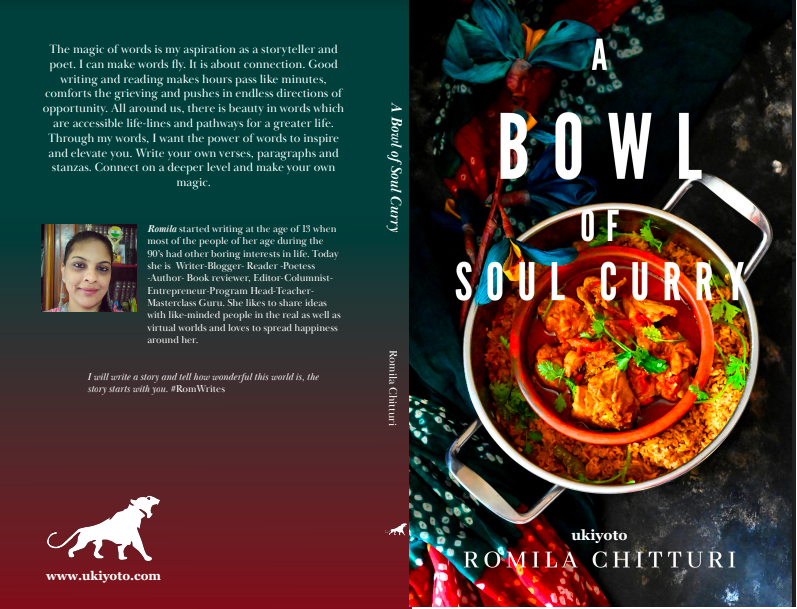 "I'm curious as to how people feel about prose and poetry. I enjoy creating and reading flash fiction, semi-short stories, micro and big poems and novelettes. As digital readers have grown in popularity, the need for short writings has increased. I belong to the old school and I believe that short work should end with a bang. I used to feel that if I wanted to be an author, I needed to create novels or bulky book(s). However, my perspective has shifted in recent times (read as 2012, 10 years ago).
To concentrate on short tales and poems, I locked my enormous ideas in my desk. I told myself that I should write short stories and experiment with different poems to experience the moment's taut tightrope walk, the never-ending opulence. I should write to leave a legacy after my death so that the future generation would read and think, "Wow!! Romila was a wonderful writer and her words, thoughts, and intellect are undeniably outstanding". For me there has been no set path to writing success, except for, of course, best writing. But I don't have that problem, now do I? Yes, I do, and this present book is a combination of prose and poetry together which I hope will make a mark and define literary success for me."
About the book:
"A Bowl of Soul Curry" is a collection of stories and poems written by me over a decade.  The characters are flawed, imperfect and fully human. You will find Romila's prose pieces and poetic work relatable, close to home, alive and happy. Story after story, you will realise how moments, encounters, ends and beginnings, accidents and struggles, departures and homecomings, life and death, actions, twists, love, fate, relationships, hatred, pushes her characters out of their predicted path and how they take an entirely new journey.  Her curries will bring you joy, tears, and make you experience a plethora of emotions all packed in one book. It was a delight for her to write and will surely be one for you to read.
Blurb:
The magic of words is her aspiration as a storyteller and poet. She can make words fly. It is about connection. Good writing and reading makes hours pass like minutes, comforts the grieving and pushes in endless directions of opportunity. All around us, there is beauty in words which are accessible life-lines and pathways for a greater life. Through her words, she wants the power of words to inspire and elevate you. Write your own verses, paragraphs and stanzas. Connect on a deeper level and make your own magic.
Author Bio:

Romila started writing at the age of 13 when most of the people of her age during the 90's had other boring interests in life. She turned Blogger at 20, professional writer at 25 and an Author at 32 for the first time. Today she is a Writer-Blogger – Reader -Poetess-Author – Book reviewer, Editor  – Columnist – Entrepreneur – Program Head – Teacher-Masterclass Guru. She owns, edits and publishes a magazine on literature and art. She is also Programme Head (India) of Ukiyoto Publishing. She likes to share ideas with like-minded people in the real as well as virtual worlds and loves to spread happiness around her. She lives in Hyderabad.
Book details:

Pages: 212

Language: English

Genre: Prose & Poetry

Formats: Paperback, Hardback and digital

Publisher: Ukiyoto
Book Buying Links