A Book Review Of The Last Attractor Of Chaos By Abhinav Singh
A Book Review Of The Last Attractor Of Chaos By Abhinav Singh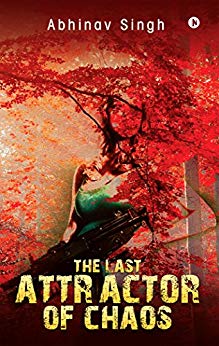 Publisher: Notion Press, Inc.

Publication Year: 2018

ISBN-10: 1642492035

ISBN-13: 978-1642492033

Pages: 332

Rating: 4.0 on 5
Spy thriller novels have been my all time favorite and hence when I got the offer to review The Last Attractor of Chaos, I grabbed it with both my hands. Penned by Abhinav Singh, the book has all the elements that make it truly worthwhile for the readers of this genre. Despite its beautiful design, the front cover seems more suitable for a romantic novel than a spy novel. But this is actually good because it does not reveal much about the actual theme of the book, which further enhances its thrill.
Shruti Rathore, the six months pregnant wife of Dr. Ashwin Rathore, is woman with multiple shades to her personality. In addition to being an emotional girl, a loving wife and a careful mother in waiting, she is also a skilled an unemotional killer who ardently follows the commands of her superiors at within the military and intelligence. However, all hell breaks loose when Dr. Abhinav is killed by some secret men while trying to protect Shruti. Soon after, Shruti is arrested for murder and weapon theft charges by IB. Will Shruti be able to save herself and her unborn child from the clutches of the deadly forces that are out to get her?
As mentioned before The Last Attractor of Chaos is a completely engaging novel that offers the right mix of thrill, suspense and intrigue. Abhinav Singh needs to be applauded for coming up with such a well-researched plot, good characterization and most importantly for his sophisticated writing style. Despite all the action and thrill, the author has done a commendable job of concealing the identity of the bad guys till the very end, when everything is revealed and explained fully. I was especially impressed by the intriguing ending in which Abhinav has ended the novel. I wish him all the very best for its success.